Our history
In the early 70's there were 10-12 ship repair workshops on Haugalandet, some of which also built new ships. The region also had a large fishing fleet with many shipping companies, perhaps especially on Karmøy. This made the foundation for the industry to specialize in ship installation and repair. But the workload was not always stable, it fluctuated a lot with the fishing seasons and the workshops' workloads.
Hjelmaas Elektriske had taken the consequences of this and established a shipping department in collaboration with two other installation companies on Karmøy. In this way, labor could be drawn in from all these companies when more labor work was needed.
In the spring of 1977, it was decided that the shipping department should be separated as a separate company, and on July 1st the same year, A/S Marin Elektro was established. The shareholders were the three installation companies and the general manager of the company. In the first years, the company was located at Hjelmaas Elektriske in Avaldsnes.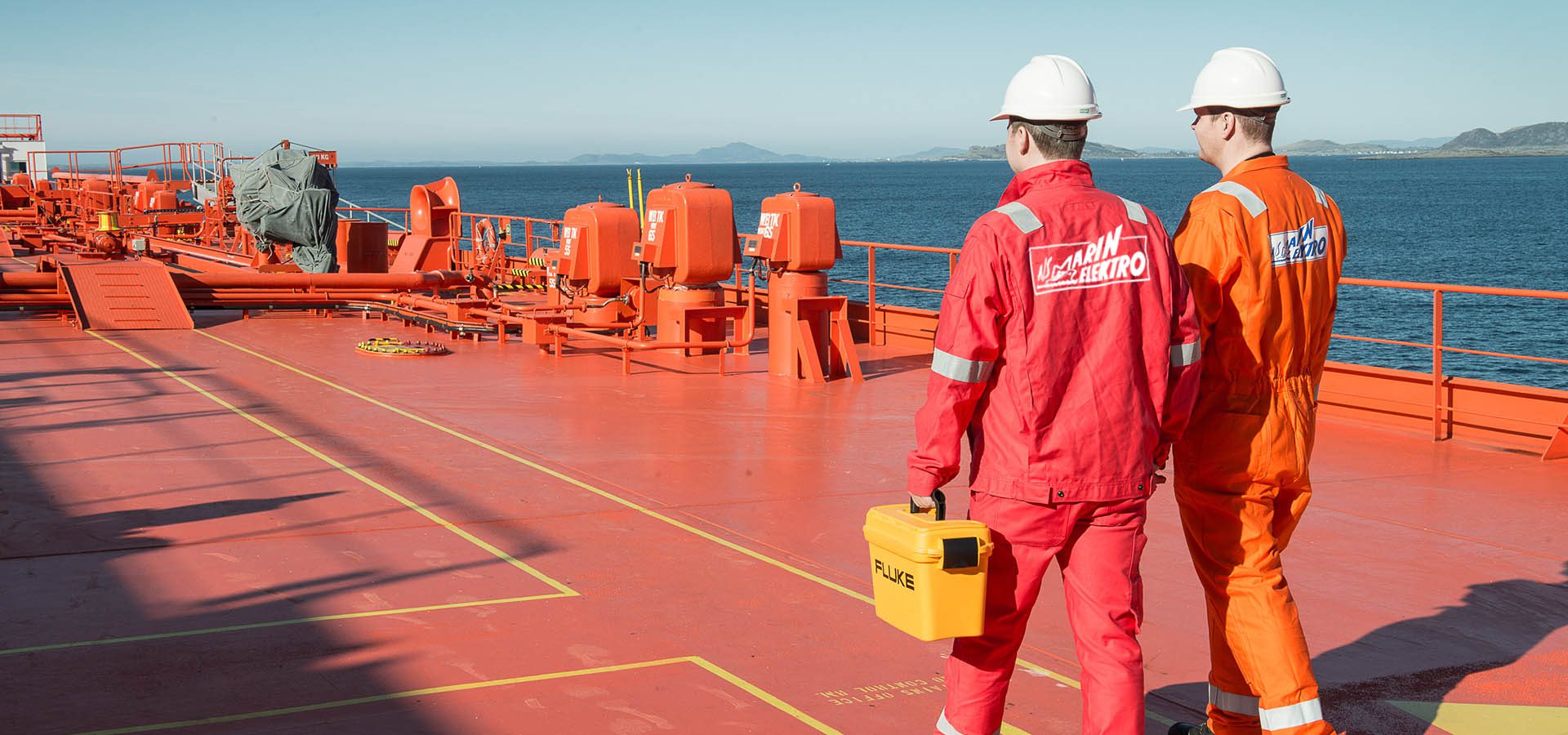 In 1980 the company bought the premises of a lumber company in Kopervik, where a new workshop and offices were established, and moved in the summer of the same year. The company now had better opportunities for the development and production of electrical products such as starter devices, switchboards and control systems for ships and the maritime industry in the area. Over time, the company has built up considerable expertise and built up a large warehouse with relevant electrical equipment and equipment aimed to ships.
Over the years, the company has also been involved in other industries besides the maritime, such as energy saving systems, process industry and some residential and commercial buildings.
In 1990 A/S Marin Elektro founded the switchboard company Tapro A / S in Haugesund, which they owned for a period. The company also owned the installation company Norman Elektroservice A/S at Frakkagjerd until 2003.
The ownership structure in A/S Marin Elektro has varied somewhat over the years. To begin with, it was mostly the original owners with varying shares. Eventually, the then general manager, Harald J. Kallevig, took over the company alone until the beginning of the 2000s. Then other part owners/partners came in on the owner side again. From 2015 A/S Marin Elektro was owned by Level Group, but from spring of 2020 A/S Marin Elektro is again an independent company owned by local entrepreneurs who also have their daily work in the company.
"A safe and reliable partner for our customers"